Frequently Asked Questions
How do I get my photo or video to show up the Challenge Gallery?
Anyone with a public profile on Twitter or Instagram that uses the hashtag #SayTheirNameChallenge will automatically be put into the Challenge Gallery. If you only have Facebook or your profile is private, text your photo to 512-920-5521 using the keyword:  saytheirname
How do I have my loved one remembered on the Name Wall?
​Everyone who donates has the option to write the name of a child. Once you donate, we will put their name on the wall within one week of donating. 
WHAT IF I HAVEN'T PERSONALLY LOST A CHILD?
​The #SayTheirNameChallenge was created to honor ANY child who has passed away. This could be your best friend from high school 20 years ago, niece/nephew, your friend's coworkers baby that you never met, or even someone who lost their life in one of our nation's tragedies. There is no wrong answer. 
I AM NOT SURE IF I SHOULD POST SOMEONE ELSE'S CHILD'S NAME. THEY MIGHT GET UPSET. 
​We are aiming to reduce this stigma. Often times, people are afraid to bring up children who have passed away because they don't want to upset anyone. However, the parent's biggest fear is that their child will be forgotten by others. Saying their child's name is a gift. 
WHERE DO THE DONATIONS GO TO?
​All proceeds from the #SayTheirNameChallenge will go directly to support Faith's Lodge, our nation's ONLY dedicated retreat facility for grieving parents and families. To learn more about Faith's Lodge, visit faithslodge.org
What should I post?
Please feel free to add your story or personalize the following messages: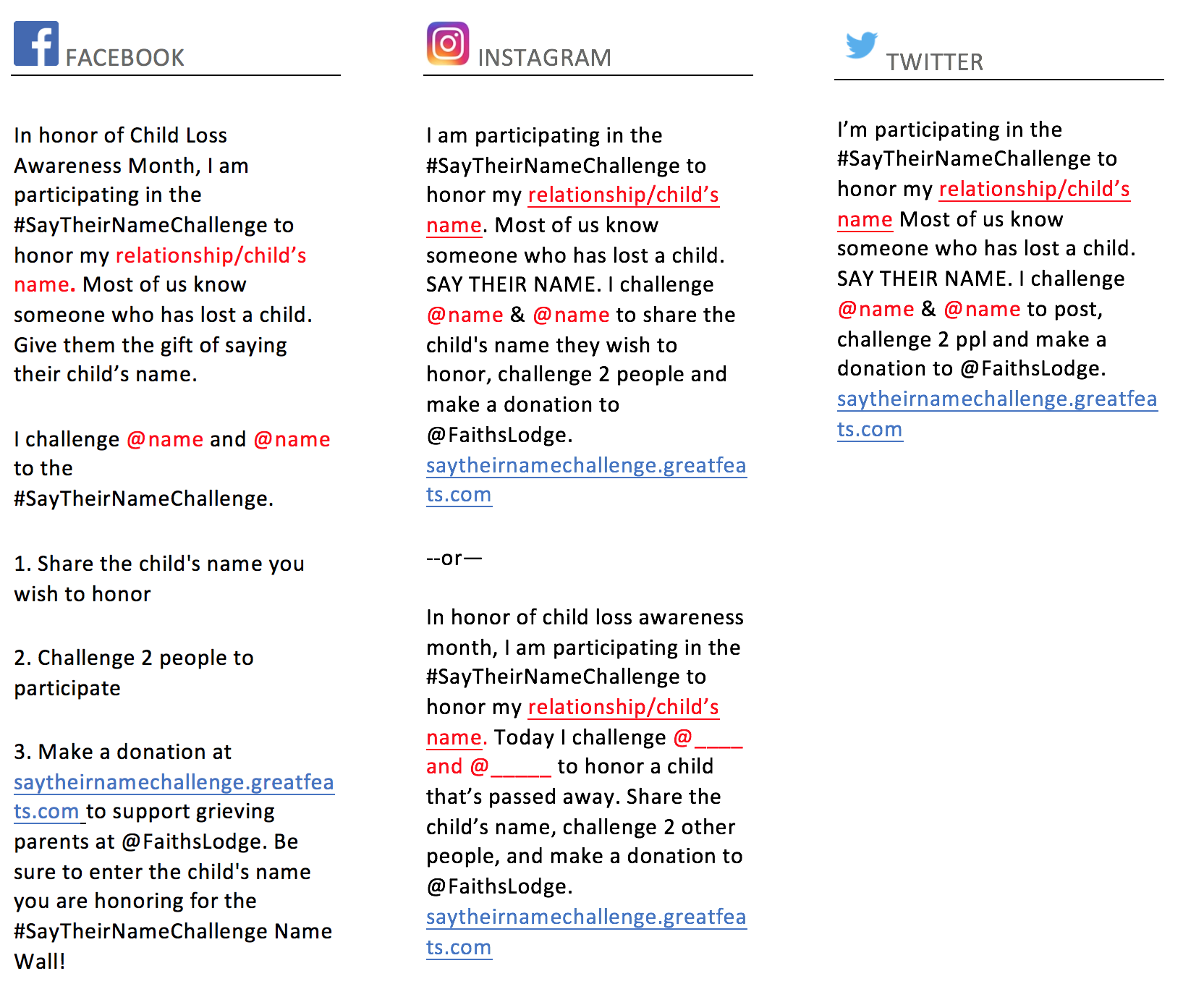 ​